RevivePod™ - Lumbar Decompression Belt
The RevivePod Lumbar Decompression Belt is a professional decompression device which lifts your upper body unloading the weight off your lumbar area relieving pressure on your spinal discs. Through the traction, it reduces burden around your lower back and gives instant relief.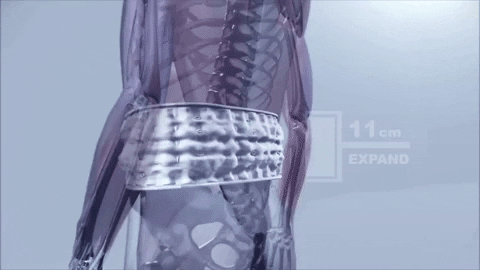 Guaranteed to reduce back pain and improve mobility within 30 days or your money back, no questions asked.

THE BENEFITS
Experience instant and long term benefits:
-Instant back pain relief
-Speeds up recovery
-Relieves muscles soreness and stiffness
-Reduces numbness in the legs
-Rehabilitates spinal conditions
The RevivePod Lumbar Decompression Belt is effective against:
-Spinal Stenosis
-Degenerative Discs
-Herniated/Slipped Discs
-Bulging Discs
-Sciatica
-Scoliosis
-Pinched Nerves
-Postpartum Back Pains
HOW DOES IT WORK?
The Decompression Belt stretches and retracts the lower back as it inflates with air. When it is inflated, it increases in height by 4 inches (7.5 cm). This gentle traction helps decompress the spinal discs.
Decompression helps relieve pressure off pinched nerves, degenerative discs, herniated and bulging discs.
Relieving the pressure allows the degenerative discs to get water, oxygen and necessary nutrients required for faster healing. It permits herniated and bulging disc to return their normal position and condition.
Reducing the pressure on pinched nerves, it helps relieve shooting leg pain caused due to sciatica.
WHY DO I NEED THIS?
The spine and back supports us in our daily life. Any pain coming from it affects us more than we know. Chronic back problems are bad for long term health. 
When back pain is not treated, it affects your health and leads into mental problems like poor focus, restless nights, increased stress, reduced productivity and social impairment. This directly affects the quality of your life.
The Solution?
Use the same therapy chiropractors use to decompress the spine and relieve lumbar pressure. This decompression belt provides the same relief you get at the chiropractor in the comforts of your home.
WHO IS IT FOR?
If you're suffering from any of the above conditions or any issue related to your lumbar or spine, then the RevivePod Lumbar Decompression Belt is perfect for you.
Spinal decompression therapy can cost upto $6000. For less than $100, you can uplift your spine and be pain-free again with this Lumbar Decompression Belt which lasts for lifetime.
*THIS PRODUCT IS NOT SOLD IN STORES
[NOTICE: Due to the Covid-19, there might be a slight delay of 2-4 days in shipping times. Rest assured, we're working tirelessly to fulfill all the orders and we really appreciate your patience during this difficult time.]
~ OUR CUSTOMER GUARANTEE ~
We truly believe we make some of the most innovative products in the world, and we want to make sure we back that up with a 30 day money-back guarantee.
If you don't have a positive experience for some reason, we will do WHATEVER it takes to make sure you are 100% satisfied with your purchase.
Please feel free to contact us for any assistance at support@revive-pod.com
4 GREAT REASONS TO BUY FROM US